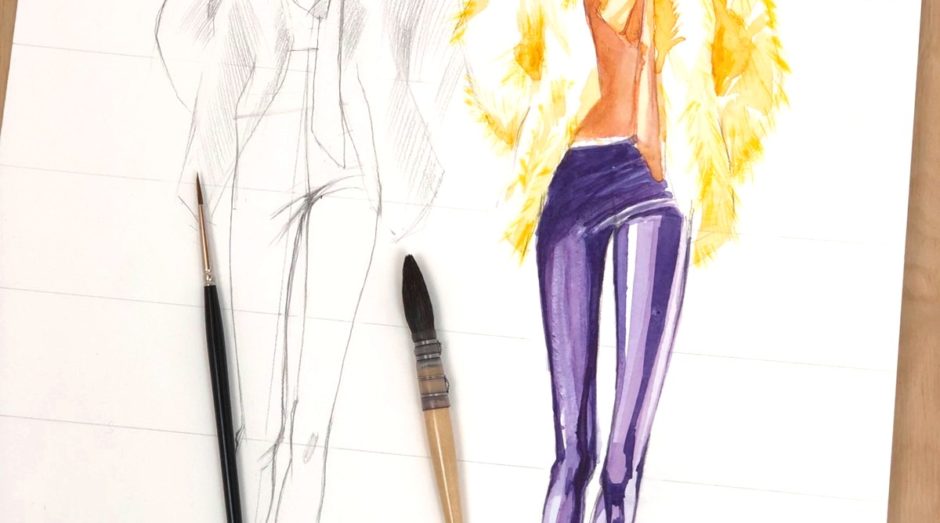 Fashion illustration
Fashion illustration
"Fashion Illustration" course by Paris Fashion Academy is designed for those who have never taken a pencil in their hands, as well for those artists who want to refine their skills and bring them to a new level.
During 6 workshops of the program you will get acquainted with a variety of modern techniques of fashion illustration (graphic, watercolor, collage, pastel, markers,  India ink…) and learn how to combine them. The course covers a wide temporal spectrum: you will draw a lot of illustrations of costumes from the best fashion houses, seen with your own eyes, but also you will learn how to draw modern images, either a fashion portrait or an illustration of a model on the runway.
Express yourself and give a boost to your artistic career by creating a professional, interesting and vibrant portfolio of fashion illustrations inspired by the greatest fashion outfits.
Day 1
Arrival, check-in in the hotel
Discovery of Paris, walk through historical districts
Free time
Day 2
Breakfast at the hotel
11.00  Visit of the Yves Saint Laurent Museum, quick sketching of garments. Yves Saint Laurent Museum, located in the legendary hôtel particulier at 5 avenue Marceau was once the headquarters of the haute couture house where the great couturier was designing his collections and receiving his clients for nearly thirty years. With a vast collection of a 5000 garments and 15 000 accessoires, the museum recreates the original atmosphere of the haute couture house, not forgetting the studio which perfectly draws the creative process behind the collections. You will find there the personal belongings of the designer, such as sketches, coloured pencils, art books, boxes of brooches or textile samples.
13.30 – 14.30 Lunch
15.00 – 18.00 Fashion illustration : introduction. Choice of art supplies, essentials in fashion illustration (general). Proportions in fashion figures.  Steps of creation of a illustration in mixed media. Watercolor techniques: "wet on wet" and "wet on dry". How to apply color washes to paper:  flat wash, graded wash or multicolor. Result: you will master different watercolor techniques and you will learn how to combine it with other media. You will discover the malleability, the transparence and the lightness of the created silhouette.
Free time
Day 3
09.00 Breakfast at the hotel
10.00  Fashion illustration of evening gown, pen and ink technique. Unlike on the previous workshop, where the model was static, we will learn to draw the model on the runway. Based on our example we will analyse the rhythm of the proportions and the effect of chiaroscuro.
13.00 – 14.00  Lunch
15.00 – 18.00 Fashion portrait with dry pastel.  Choice of art supplies (types of pastel, type of paper etc). Basics of working with dry pastel. Layering and smudging with pastels. Effect of drastically different textures achieved with soft and hard pastel.
Free time
Day 4
09.00 Breakfast at the hotel
10.00 Fashion illustration mixed media – oil pastel and permanent markers. Work on a transparent plastic medium.  
13.00 – 14.00 Lunch
15.00 – 18.00 Fashion illustration in media of your choice. Drawing of a dress with water-soluble pencils GRAPHITE AQUARELLE (HB, 2B, 4B, 6B, 8B) combined with color pencils or silhouette watercolor illustration on tissue craft paper.  
Presentation of certificates to participants of the course.
Free time
Departure
Tuition fees include :
Airport transfer (from/to)

Accomodation in a hotel located in the historical city centre (TWIN room)

Breakfast at the hotel

Yves Saint Laurent Museum visit

Les ateliers et les cours du programme

Art supplies: pencils, color pencils, pastel pencils, water-soluble graphite pencils, A3 paper, tissue craft paper, plastic medium, dry pastel, oil pastel, India ink black and color, watercolor reservoir brushes, watercolor, brushes, liners, permanent markers.  

Group accompaniment

Certificate of completion of the course
Tuition fees do not include:
Tickets to Paris (airplane, bus, train etc).

Visa (if needed)

Health insurance – is OBLIGATORY

Meals (lunch, dinner)

Public transportation in Paris (up to 25 EUR)